Healthy Living with Teresa Tanoos is a television show, a radio show, a magazine, and a Website designed to educate the general public with consumer-friendly health information and medical news in an easy-to-understand format. It is also a unique marketing tool for sponsors and advertisers, combining powerful exposure with cross-promotional benefits in delivering their message via the power of television, radio, print, and the Internet at once. To learn more about sponsorship and advertising opportunities, click on the Advertising tab at the top of the page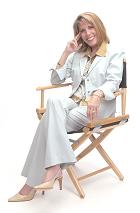 .
Healthy Living Host, Teresa Tanoos is a former medical reporter and a veteran TV news anchor. A widely respected journalist with over 20 years of television experience, Teresa has worked at affiliates for NBC, CBS and ABC. Throughout her career, Teresa has received numerous awards and garnered national recognition for her medical reporting and educational service to the community. As a twenty-five year cancer survivor, Teresa has first-hand knowledge of the importance of receiving accurate and up-to-date health information.
As the daughter of a prominent physician, who has himself survived three open heart surgeries and a liver transplant while building one of the largest cardiology practices in the nation today, Teresa is also a highly respected and outspoken advocate for improving the quality of public health education today. Ms. Tanoos frequently speaks to organizations about the importance of taking charge of your own health program and wellness destiny. To learn more about Teresa or have her speak to your organization, please contact Cartera Media at 317.828.1787 or email info@carteramedia.com.